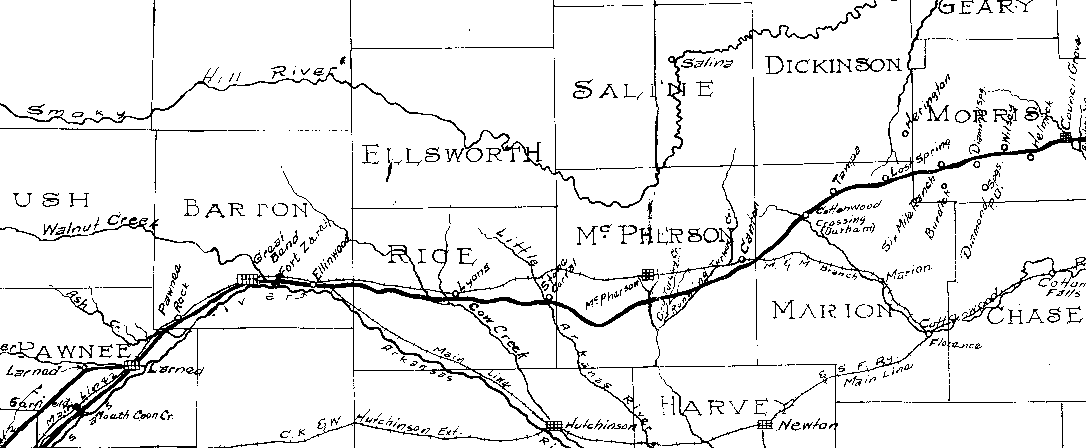 PAWNEE ROCK - GREAT BEND - ELLINWOOD - HOISINGTON - CLAFLIN
SANTA FE TRAIL SITES:
LOCATIONS:
​
PAWNEE ROCK
Pawnee Rock State Park, 631 N Centre St., Pawnee Rock, KS 67567
LOCATIONS:
​
FORT ZARAH
East of Great Bend on North Highway 56
​
WALNUT CREEK CROSSING
2 miles east of Great Bend on South Highway 56

SANTA FE TRAIL MARKER #48
10th St and Frey St, in Great Bend

DAR MARKER #49
Northwest of Barton County Court House, Jack Kilby Square, 1400 Main St.
LOCATIONS:
​
DAR MARKER
North side of Santa Fe Boulevard (US Highway 56) near the United Methodist Church
Barton County Kansas was organized May 16, 1872. It is named after Clara Barton, Civil War nurse, founder of the American Red Cross.

The Santa Fe Trail passed through the Courthouse Square.
​
Known for Cheyenne Bottoms:
​