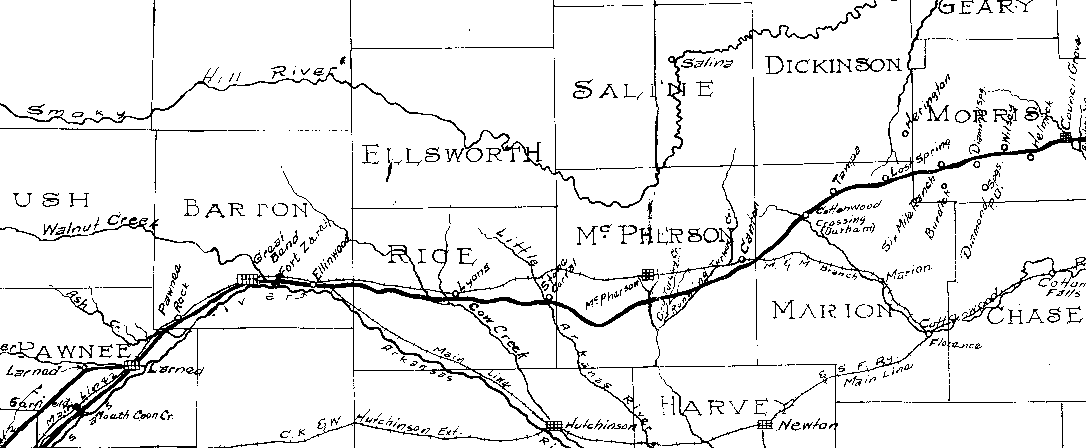 SANTA FE TRAIL POINTS OF INTEREST
​
CHASE
Named after J.D Chase, Santa Fe Railroad Official
​
GUNSIGHT NOTCH

L Ave., Between 3rd Rd. and 4th Rd., West of Chase
Several trail ruts converged to cross a low ridge west of Ralph's Ruts and just south of Ave L. Sixty years of commercial traffic wore a wide notch in this ridge known to some trail buffs as "Gunsight Notch".
OLD SANTA FE DEPOT

in Alden KS
​
PLUM BUTTES

Corner of 3rd Rd. and L Ave., West of Chase
There were three large sand dunes on west of 3rd Avenue and just north of Ave L which were said to have been 80 to 100 feet high. This was usually the noon stop and was a landmark that could be seen after crossing Cow Creek. A DAR marker is located on west of Plum Buttes.
​
RALPH'S RUTS AND KERN'S RUTS

4th Rd., Between L Ave. and M Ave. (56 Hwy),
4 miles West of Chase
These are among the most prominent trail ruts to be found anywhere. They have become known among trail buffs as Ralph's Ruts, named after Ralph Hathaway, who was the proud owner of the pasture where Ralph's Ruts are located. Kern's Ruts are ruts in the pasture south of the Plum Buttes site.
​
RAYMOND
Named after Emmons Raymond, Director of Topeka, Atchinson and Santa Fe railway



MODERN DAY CONVENIENCES
EATS
Looking for a place to have a great meal? Try out one of these!
​
Kats Korner
417 Main Street • (620)-938-1100
​
STAY




LYONS
CELEBRATION CENTER INN & SUITES

LYONS INN


1108 E US Hwy 56 • (620) 680-6022 817 W Main • (620) 257-5185
​
LYONS FREE OVERNIGHT TRAILER PARK
711 W Taylor • (620) 257-2320
STERLING




COUNTRY INN


430 S Broadway • (620) 904-4424
​
​
​