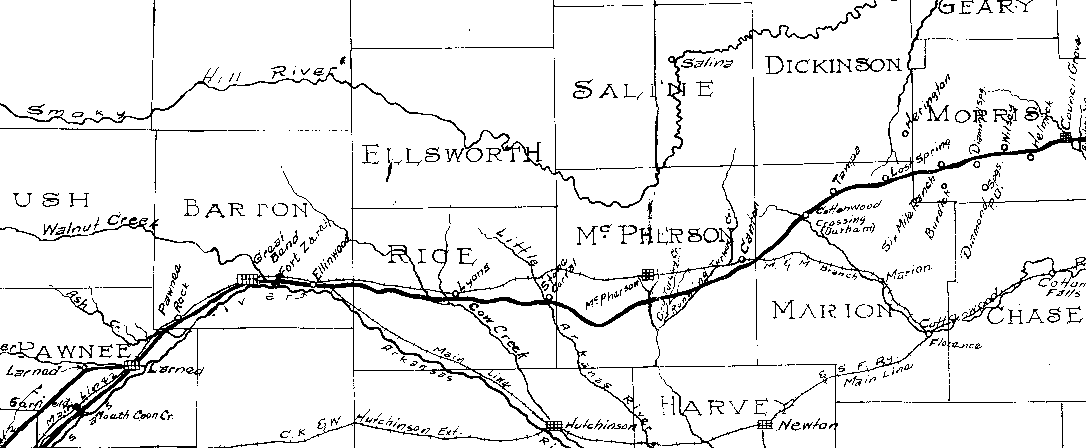 SANTA FE TRAIL POINTS OF INTEREST
​
GALVA MUSEUM

Come visit the Galva Museum where we are dedicated to preserving and showing the history of our beautiful city.
204 S MAIN
(620) 654-3343 or (620) 654-3328
​
FULLERS RANCH SITE

Established in 1855 on the Santa Fe Trail, this was the first white settlement in McPherson County.
22nd Rd & Iron Horse Road


MODERN DAY CONVENIENCES
​
PLAY
The

Sunflower Santa Fe Walking Trail

is built on the corridor of the ATSF railroad bed. It extends one mile west of Galva. There is a picnic shelter at the trail head. Along the trail, one can observe nature at its best.
​
Park Henry

, Santa Fe St. and 4th St., is Galva's oldest park and includes a picnic shelter, playground equipment, a tennis court and restrooms.
​
​
Lynn Baldwin Memorial Park

, N Main St. and Northview, includes
regulation sized softball and baseball fields, picnic shelter, modern
playground equipment and a .2 mile walking trail.
​
​
Jake Warren Memorial Park

, S Main St. and 2nd St., includes a fenced in park with the latest playground equipment as well as a splash park. A basketball goal is located just outside the park.
​
SHOP


A stop at

Woodburry Market

, 305 E Hwy 56, one might be surprised to see all that is offered - the

Coffee Shed

,

Tin Roof Pantry

(freshly made cinnamon rolls, breads, frozen casseroles, bierocks, pies),

Bonnie Jane's

(gifts and home decor),

Farmgirl Dresses

(unique fabrics and gifts),

The Winking Owl Bookshop

(vintage books), and

Gypsy Princess Products

(handcrafted organic skin care products and toiletries as well as hand crafted knit and crochet hats, scarves, etc.). Open Monday-Friday 8 AM - 5 PM and
Saturday 8 AM - 2 PM.
​

​
EAT
Looking for a place to have a great meal?
​
HIGHWAY 56 RESTAURANT
220 E Hwy 56 • (620) 654-3500
Proudly serves the same heritage dishes that have made this restaurant a favorite for many years. Open Monday-Wednesday 6 AM - 2 PM and Thursday-Saturday 6 AM - 8 PM.
THE COFFEE SHED
305 E Hwy 56 • (620) 654-3697
Serves premium coffee, a light breakfast and lunch, and assorted pastries. Open Monday-Friday 7 AM - 5 PM and Saturday 7 AM - 2 PM.
​
​
COMMUNITY INFORMATION
The town of Galva was settled in 1879 and incorporated in 1887. The stone building on Second and Main is the only original building left. At one time, it had two stories and even had a skating rink on top. The buildings on the west side of the 200 block of Main were all replaced after the fire of 1930 destroyed almost the entire block.
​
Galva is the successor of the town of Empire, which was
located one mile east and 2 miles south of the current site
of Galva. As early as 1823, the junction of the Santa Fe
Trail and the California Road (Cherokee Trail) served as a
regular stop for the wagon trains and travelers heading
west. In 1855, Charles Fuller built a "ranch" just west of
Running Turkey Creek, which was the first white
settlement in McPherson County.
​
In 1871, Joseph J. Colby constructed the first permanent residence which was the beginning of Empire. Any hope of a prosperous future for Empire was shattered when a branch of the AT&SF railroad was completed September 23, 1879, passing northwest of Empire. It didn't take long for the residents of Empire to move their buildings to the railroad camp called Galva. By 1880, even the post office was closed. The beginning of Galva meant the end of Empire, a town that ran its whole course of history in under ten years.
​
Today, Galva is a thriving little town with a population of about 900 and is known for its concrete streets and many new homes. There are two churches in town, the Galva United Methodist Church and the Galva Christian Church. The Canton-Galva USD 419 Elementary School is located in Galva, and the Jr/Sr High School is located in Canton.
​
For more information about the City of Galva, visit their website: www.cityofgalvaks.com.
​
​