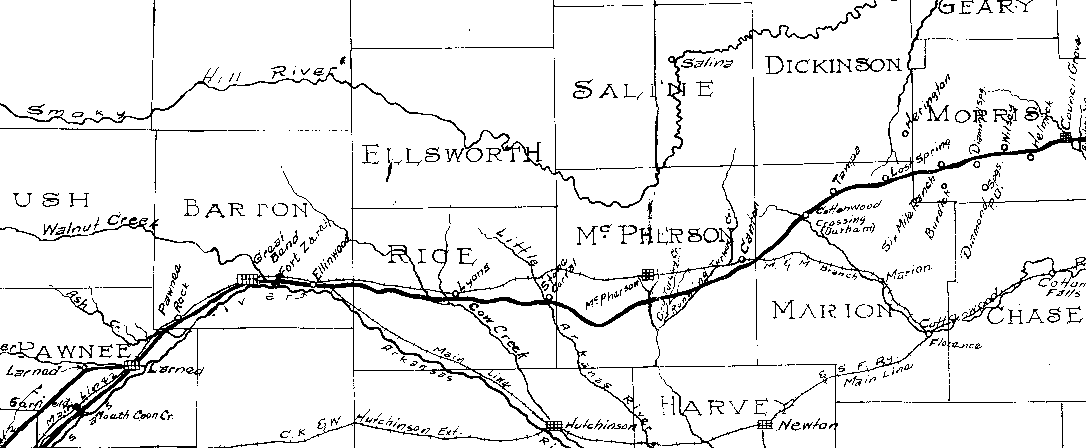 INMAN - WINDOM - ELYRIA - MARQUETTE - MOUNDRIDGE - MCPHERSON - GALVA - CANTON - LINDSBORG
SANTA FE TRAIL SITES:
LOCATIONS:
​
KAW TREATY SITE
East of Elyria on old Highway 81
LOCATIONS:
​
FULLER'S RANCH/
RUNNING TURKEY CREEK CROSSING
A mile east of Galva on Highway 56 and
2 miles south on 22nd Avenue.
LOCATIONS:
​
ED MILLER'S GRAVE - 2 miles east of Canton on Highway 56 and 1/2 mile north on 29th Avenue
McPherson County was named for Civil War General James B. McPherson and founded on February 26, 1867.

It is home to McPherson College, Bethany College and Central Christian College
of Kansas.

Thousands are employed in both industry and agriculture.
​
Known For:

Maxwell Wildlife Refuge
Maxwell is home to one of the few surviving wild bison herds. Approximately 20 bison and 85 elk make their home at the refuge. Each fall, there is an auction of surplus bison.
​
It began in 1859, when a small herd of bison were driven into the area around the Maxwell homestead. The Maxwell family wanted to preserve a piece of prairie, with a roaming herd of bison, for future generations and in 1943, the Henry Maxwell estate donated 2,560 acres of land to the Kansas Forestry, Fish and Game Commission for the creation of the Maxwell Wildlife Refuge - dedicated to bison and other prairie species.
​
Public access to the Maxwell Wildlife Refuge includes occasional tram tours, horse back rides in spring & fall, and the 50 year old observation tower. Fishing and primitive camping are available at nearby McPherson State Fishing Lake.