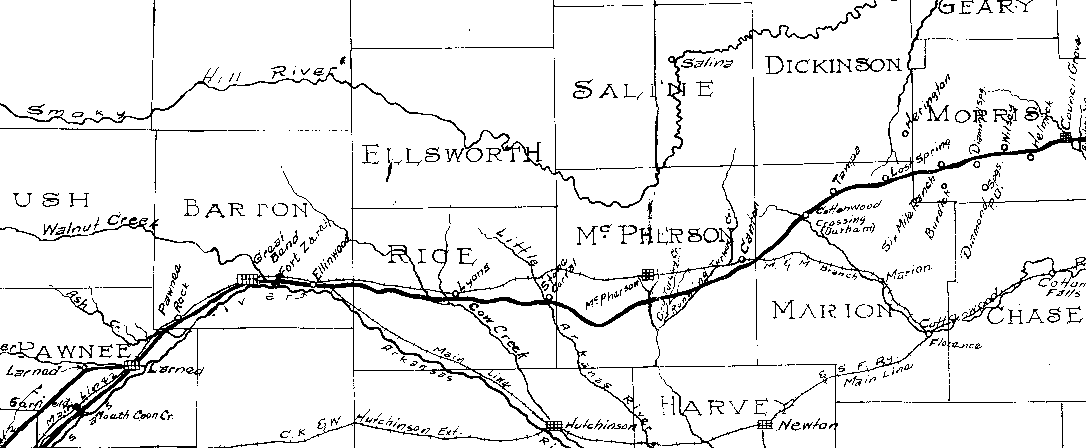 SANTA FE TRAIL POINTS OF INTEREST
PAWNEE ROCK ,

one of the most famous landmarks on the Santa Fe Trail, is located just north of Pawnee Rock, Kansas. Originally, the landmark was over 150 feet tall.
​
Matt Field, who traveled the Santa Fe Trail in 1840, later wrote, "
Pawnee Rock springs like a huge wart from the carpeted green of the prairie

"

.
​
Traders, soldiers and emigrants who stopped, carved
their names into the brown sandstone. Some of these
names are still visible among the graffiti of the more
recent visitors. In 1848, James Birch, a soldier on his way
to the Mexican War, wrote:
"
Pawnee Rock was covered with names carved by the men who has passed it. It was so full that I could find no place for mine.

"
​
Pawnee Rock was long a meeting place of the Comanche, Kiowa, Arapaho and Cheyenne Native American tribes. Numerous battles were fought at Pawnee Rock between the tribes. Pawnee Rock was for many years a place where Comanche, Kiowa, Arapaho, Cheyenne and Pawnee tribes held their councils of war and peace.
​
Pawnee Rock was a landmark on the Santa Fe Trail. It served as a lookout place for both Trail travelers as well as Native Americans. It was a favorite camping spot for caravans bound for Santa Fe. Once camped there, the rock afforded some protection against attack. Many travelers and traders on the Santa Fe trail considered Pawnee Rock the most dangerous place on the Central Plains. It also marked for travelers the halfway point between Missouri and Santa Fe.
​
Much of Pawnee Rock was destroyed in the 1870s by the
railroad and by settlers for building stone, reducing from
the original 150 feet to about 50 to 60 feet in height. The
remnant was acquired in 1908 by the Women's Kansas Day
Club. In 1909, Pawnee Rock was given to the State of
Kansas as a historic site. On May 24, 1912, a stone
monument was dedicated with great celebration before a
crowd of some 8,000 onlookers. Pawnee Rock was listed in
the National Register of Historic Places in 1970 and today
operates as Pawnee Rock State Historic Site.
​
Many stories have been told about Pawnee Rock and how
it got the name. In one story, Kit Carson was on his first trip
west and only seventeen. He was working for his passage
on a wagon train which camped near Pawnee Rock. While on guard duty, he shot his own mule, thinking it was an attacking Pawnee. His associates commemorated his experience with the name: Pawnee Rock.



MODERN DAY CONVENIENCES



STAY




​

LARNED
TOWNSMAN INN LARNED

RODEWAY INN
123 E 14th St, Larned, KS • (620) 285-3114 802 E 14th St, Larned, KS •(620) 285-2300
​
2021 PAWNEE ROCK EVENTS
​
​